Ještě před samotný článkem chci zmínit několik věcí - ano jsem zpět na blogu. Změní se tady, ale spoutu věcí a první je design, pak také částečně zaměření blogu - bude se jednat o dívčí blog více módy, líčení a méně deníčku a takových blbostí. Co se týče affs nevím jestli s nimi budu pokračovat, pokud byste měli zájem napište a můžeme se domluvit.
Můj první článek po tak dlouhé době je wishlist. Ano vím, že je už po vánocích, ale mám tady prostě několik věcí, co chci a napadlo mě to tak trochu okecat pomocí článku. Budu to asi dělat tak, že každý měsíc nebo dva vydám svůj wishlist a bud si odškrtávat to, co už mám a případně mazat a měnit věci na které změním názor.
1. Lita shoes - asi nejkrásnější boty, co jsem za poslední dobu viděla. Úplně je miluju a chápu, že někomu budou připadat jako kopyta, ale podle mě jsou naprosto úžasné. Problém je také v tom, že v českých obchodech je nikde nemají a bez vyzkoušení je prostě pro někoho problém koupit je přes ebay. Stejně ale doufám, že se k nim nějak dostanu. Prosím pokud byste je viděli někde v obchodě tak mi napište kde.
2. Kabelka Michael Kors - dobře, dobře vím, že cena těchchle kabelek je asi trochu jinde než CCC nebo Humanic, jenže já už docela dlouho sháním nějakou slušnou černo zlatou kabelku a žádnou jsem ještě nenašla. Opravdu jsem prošla snad všechny obchody kde kabelky mají a žádná mně extra nezujala. Musím říct, že tyhle kabelky jsou úplně jiný level i když cena je opravdu dost vysoká.
---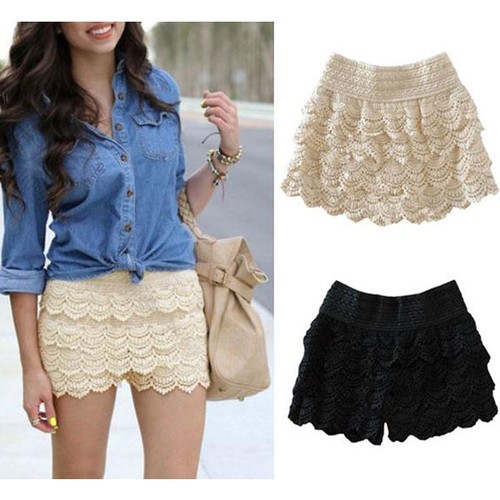 3. Krajkové kraťasy - mně se tyhle kráťásky strašně líbí a na ebay nestojí moc (3-4 dolary), ale pořád přemýšlím jestli bych je unosila. Nejsem si jistá jestli bych je měla k čemu nosit, ale hrozně se mi líbí. Už asi od podzimu nad nimi přemýšlím a pořád si ještě nejsem jistá.
4. Urban Decay Naked - tyhle paletky mě úplně uchvátily. strašně se mi líbí ty stíny jsou neutralní a dají nosit naprosto každý den a přitom nejsou vůbec nudné. Musím říct, že nejvíce mě zaujala prní paletka Naked original. Je to sice docela nesplnitelný sen. Hlavně protože 1500,- za paletku prostě nedám, ale stíny mají být úžasné kvality (perfektně pigmentované a dobrá výdrž). Tohle je spíše jenom takový doatek a takový nesplnitelný sen.
(zdroj obrázků: google.com, ebay.com)